■What's new?
*An article on our cooking school was introduced on the official website of Government of Japan September 2015 edition! 
*2015 Winner! tripadvisor Certificate of Excellence!!!
****October 2015****
Mon 5th Oct Sushi Fully booked!

Weds 7th Oct Sushi Fully booked!
Fri 9th Oct Sushi  11:30-  Fully booked!
Fri 9th Oct Sushi  15:00-Fully booked!

Tues 13th Oct Sukiyaki class Fully booked!
Weds 14th Oct Washoku Fully booked!
Fri 16th Oct Udon Noodle Fully booked!
Mon 19th Oct Sushi  Fully booked!
Fri 23rd Oct Sushi Fully booked!
Mon 26th Oct Sushi 4 more seats left!

Weds 28th Oct Bento class Fully booked!
Fri 30th Oct Sushi class 4 more seats left!
●The inquiries for later schedule, please send us email :your request(date/menu). We will email you back soon! Or send to kitchenbuddha@gmail.com
●In order to keep good atmosphere and the quality of each lesson, we have decided to set up our class capacity as max 6-8 people for each lesson.  We want to make our class as friendly + intimate +interactive as possible so that all the members in the class can share great time together and grab more detailed info from the instructor.
Thank you for your understanding. 
**For a group booking more than 10 people, please ask.

(Private lesson is subjected to change depending on your request)
We ask participants to book 24hrs prior as we have to prepare for the ingredients.  All the payment is required to pay through PayPal in advance. Your booking will be confirmed after the payment.
Thank you for your understanding!  
*Note: Our Class starts at 11:00am
*(Fish cutting class starts at 10:30 am)
*(Irregular evening class 18:00pm depending on the day, please ask for availability)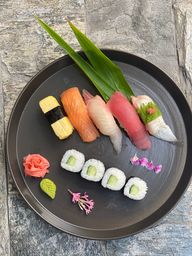 Introduction
     Japan has become one of the world-wide known  destinations for foodies. Sushi, Bento box are becoming a big trend.  We have the most michellin star restaurants in the world! (More than Paris!!)  Good restaurants hopping might be the for one reason to visit Japan. But there is another option for you to enjoy Japanese foods. 
   Cooking and learning Japanse cuisine during your journey might be new idea. If you are a food lover, why not deepen your cultural background knowledge through Japanese foods & cuisinary? Surely the experience of making sushi, bento box, noodle etc...will add a certain spice to your cooking and lifestyle!  This would be the best souvenier for you to bring Japan home.  We ensure memorable moment moment during your stay.
   Our classes provide you with intimate, cozy and friendly atmosphere, guided by a Japanese instructor who speaks English fluently. Also the kitchen studio is situated in the heart of Tokyo, very easy asccess.(5 min from Inperial Palace/Tokyo Station/Akihabara, 10min from Shinjyuku/Shibuya) In our dining room, there are so many good books introducfooding Japanese culture &  food culture that you can enjoy more than just cooking! 
All the courses are hands on recipes that you can try at home!  We try to give you as simple instruction as possible so there is no need for beginners to worry. At the same time we do intensive course and  tailor the class to your level of experience.
Please come & join us and discover a real taste of Japan!